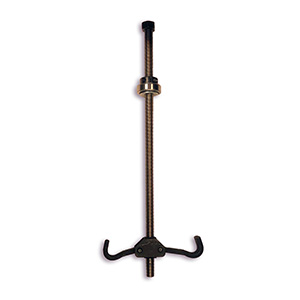 Long Coil Springs Can be a Challenge to Compress
We know installing long coil springs can be a challenge as standard spring compressors just aren't long enough for their proper compression. So, we have introduced a spring compressor for long coil springs, specifically designed for use with our 18" Front Drag Racing Coil Springs. 
The Spring Compressor for Long Coil Springs
The spring compressor is inserted through the top shock absorber opening and its long length threaded rod allows the compressor fingers to reach down to the bottom of the spring. A bearing located at the top of the rod seats in the shock opening so that the threaded rod turns freely when the spring is tensioned or loosened.
To purchase the spring compressor or for more information see the Front Drag Racing Springs – Spring Compressor webpage.