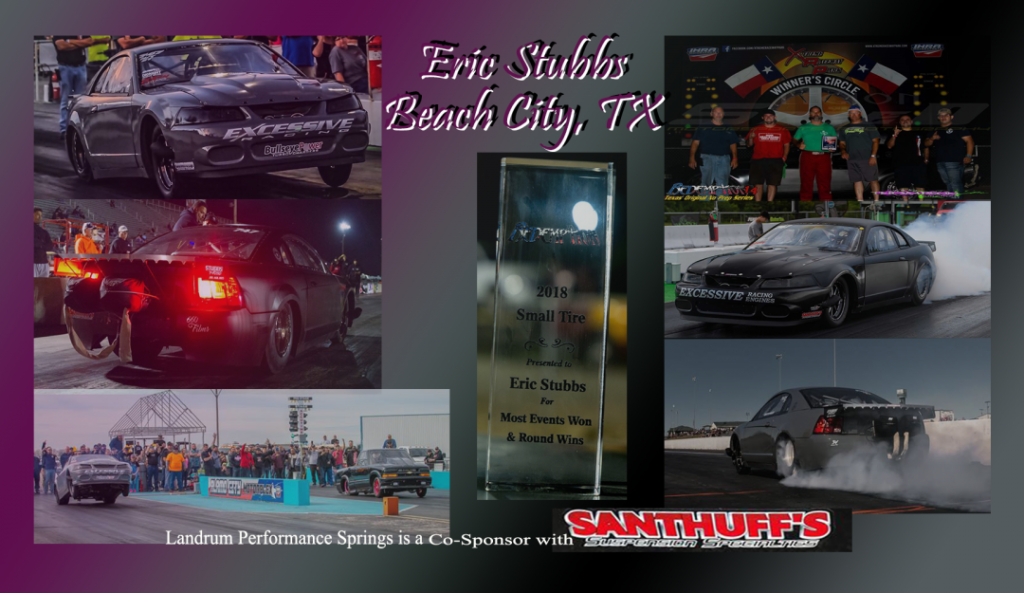 Eric Stubbs from Beach City, TX
Eric Stubbs from Beach City, TX has been racing for the last 20 years non-stop from True Street all the way to Promod. Stubbs for the past few years has been doing N/T shootouts and No Prep Racing with Redemption No Prep Series. He has won 5 times and 2 runner up championships with the Redemption No Prep Series. Stubbs also has many N/T shoot out wins and runner ups. Some of the classes he has ran in are: True Street, Outlaw Street, True 10.5, Outlaw 10.5, XTF Promod, X275, RVW, Small Tire No Prep and N/T Small Tire Shootouts. When Stubbs isn't racing he is building race cars, he owns Stubbs Racing located in Pasadena, TX.
Please welcome Eric Stubbs to the group of Landrum Performance Springs' drivers. We would also want to thank, Ron Galbreath, of Stanthuff's Suspension Specialties, for agreeing to to team up with us and Co-Sponsor Eric Stubbs.
*In drag racing N/T means – (1) do not flash their ET and MPH on the scoreboard, (2) no countdown after both racers are staged, you get all the yellow lights at once and the green is .400 later*