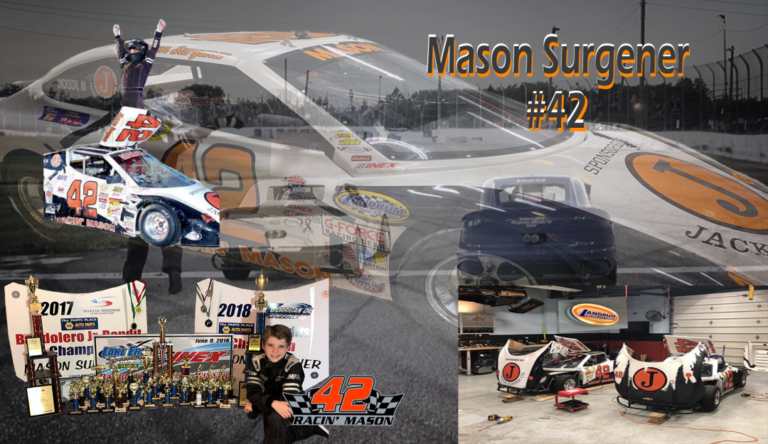 Mason Surgener from Lansing, MI
Mason Surgener from Lansing, MI  known to many as Racin Mason started racing Bandolero stock cars in 2017.  His Rookie year he won 22 heat and feature wins. Mason  was the 2017 Spartan Speedway Champion, 2017 Rookie of the Year, 2017 Perfect Attendance, 2017 Most Bandolero Wins at Spartan Speedway & State of Michigan. Mason also received the 2017 MARFC Award for Jr. Bandolero Champion.
In 2018 Mason won 38 heat races and feature wins.  This time at Corrigan Oil Speedway he was the 2018 Outlaw Bandolero Champion, 2018 Most improved Bandolero Driver Award, 2018 Perfect Attendance Award.  He Was Top 25 INEX Nationals Points. 2018 was a busy season form Mason racing 12 tracks in 6 states. (WI, OH, NC, MI, PA & NY)
2019 isn't looking much different.  He usually sweeps every weekend with wins. Mason at the age of 14 loves racing but he also takes the time for family, friends and reading.  He loves to read history books he told me. Mason and his Dad both have told me that since they have starting running Landrum Performance Springs, he is only getting faster and better. I have been following Mason on his Facebook page "Racin Mason" this season, he isn't just a good racer but also an unbelievable grounded smart young man.